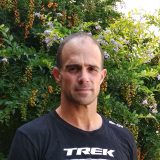 Dr. Adar Teichner earned his doctoral degree in 2012 (direct track from Masters to Ph.D.) at the Department of Biochemistry of the Faculty of Medicine, Technion-Israel Institute of Technology . The study was conducted under the guidance of research-professor Avram Hershko. His research topic: Characterization of Different Inhibitors of APC/C in the Mitotic Checkpoint. A long-term biochemical research which was based upon aspects of the Ubiquitin-Proteasome Pathway.
After completing His post doc., Adar has rejoined Professor Hershko's research team between 2014-2020. Along this period, Adar was also a vital part in establishing the tissue bank (Bio-Bank) laboratory at the Rambam Hospital and was also the chief scientist and head of implementation of advanced technologies at 'Bara Herbs Ltd.
Dr. Teichner is currently a senior researcher at the LNBD and is in charge of establishing the roles of VOCs (Volatile Organic Compounds) in several-novel in vitro models.